Dear fans,
I want to thank you for your support, for having supported me in spite of all that they say about me. Unfortunately, I will not be able to perform in the ring because of health problems caused by old injuries. Of course, as an athlete it's a hard time. I am grateful to my fans and partners for their support, for believing in me, and I am grateful to my detractors. Your attitude always made me move forward and achieve new things. I realise now I was hit by a barrage of accusations and criticisms, not directly related to my job. Unfortunately, there will always be people who want you in bad situations to score points. I don't want to comment on anything, explain or justify. Each of us in life does good and does bad – that is our nature. I think I did a lot for the sport and I hope my example has drawn a lot of young people to the gym. Otherwise, God will judge us all, in time. Now I want to give the publicity away. I want to take care of my health, my family, which I lost, and my daughter, who I love very much. Perhaps I will see you again. Thank you! Be well and believe in God!
Your AE
Happy retirement. He sounded like a real crazy character and I would bet most of the stuff you hear about him is true!

Still I loved him as a fighter, His falling Tree KO of Morias a guy no one KO'd to this day was amazing, it showed the type of figther he could be. He beat Sergei when Sergei was top 5-10 and he Aleks was only about 25 I think. Gave Barnett a hell of a fight too.
Will always be one of MMA's biggest what could have been cases. Aleks no doubt had skills but who knows how many nights were spent drinking insted of training.
He should go down in histroy for his 1-1 record at Shw against Animals, he killed a bear with a Knife and Lost his teeth to a Bull!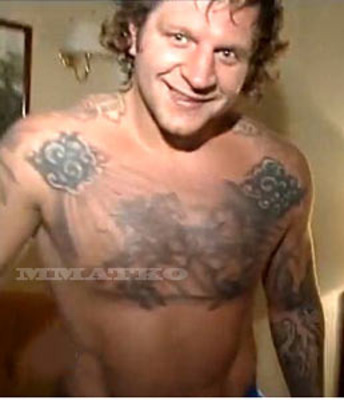 Whatever people say about his character and whatever he could have been as a figher he provided a few cracking moments for the fans. Id be interested to see a Documentary about him and Fedors lives.