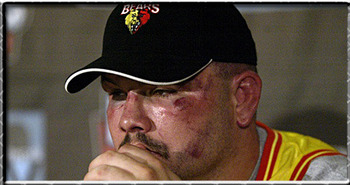 1. Travis Fulton - 309 fights, By far MMA's most experienced fighter2. Shannon Ritch - 130 fights, 130 fights that havnt gone the distance, winning or loosing he has never seen a decision.
3. Dan Severn - 127 fights, Nipping on Shannons heels but he is set to retire this year. Having said that he has about double the wins.4. Jeremy Horn - 115 fights, no fights in 2012 which makes him the only one in the top 5 who hasnt fought this year.
5. Brian Robinson - 108 fights, hasnt fought since 2010. Maby his latest 6 fight loosing spree retired him.

6. Dennis Reed - 100 fights, had his 99th and 100th fight this year winning both, snapping his 11 fight loosing spree

7. Paul Jenkins - 98 fights, Welsh 155er, only won 1 of his last 10 and hasnt fought since 2010
8.
Minowaman - 96 fights, 2 losses 2 wins this year, I could see him ending up top 5 of all time.
9/10.
Yuki Kondo - 89 fights, a win and a loss this year looks to be still going strong.
Osami Shibuya - 89 fights, none since a loss and a dwar in 2010
11/12.
Shonie Carter - 86 fights, Briefly retired after a loosing spree but got a win and loss since, the loss being this year, the man had over 60 kickboxing fights too.
Adriano Serrano - 86 fights, retired in 2008 on a win over a 6-1 guy, left the sport with a winning record.

13. Travis Wiuff - 85 fights, Still actve fought 5 times this year going 3-2
-----------------------------------------
A load of records got hard to verify outside these guys There were claims of some of these guys having more fights and their records very form place to place but these are MMA'most experienced fighters.
Anyone im missing?